Á Íslandi eru stjörnuathuganir háðar veðráttu og vindum. Varanleg aðstaða og skjól er afar mikilvægt atriði ef sinna á þeim markvisst. Áhugasamir stjörnuathugendur reka sig á þetta fyrr eða síðar en mjög fáir gera að veruleika að setja upp eigin stjörnustöð. Ef þú veltir vöngum um hvort það borgi sig, þá má nefna nokkur atriði sem slík aðstaða bætir úr.
In Iceland,  the harsh weather and the wind control how many observations are possible throughout the season. Permanent facilities and shelter are vital for sustained observations. Motivated observers realize it sooner or later, although very few make the dream true of building a private facility. If you wonder if it pays off, then there are some benefits worth considering.
Sjónauki og myndavél eru uppsett á föstum stað og alltaf til reiðu.
Minnkar slit á tækjum.
Styttri undirbúningstíma þarf áður en stjörnuathuganir hefjast.
Pólstilling er aðeins framkvæmd einu sinni ef vandað er til verka.
Gott skjól fyrir stjörnuathuganir þó vindasamt sé. Höfundur mældi þvergöngu fjarreikistjörnu, á meðan meðalvindur var um 24 m/s og hviður í 30 m/s.
Dregur úr áhrifum utanaðkomandi lýsingar.
Stöðugra hitastig innandyra flýtir því að sjónauki nái hitajafnvægi.
Minni móðusöfnun á yfirborði linsu sem er staðsett í húsi en utandyra.
Stöðugt rafmagn fyrir rafdrifna sjónauka, tölvur og myndavélar, aðgengilegt net allan tímann.
Þú sinnir athugunum eins lengi og þér líkar en ert fljótur að ganga frá að þeim loknum.
Að byggja stjörnustöð getur orðið ærið dýrt. Að búa yfir verklagni er því mikill kostur.
A telescope and camera are permanently installed and ready for use.
Less wear of the equipment.
Less time is needed for preparation before observations start.
Polar alignment is implemented only once if properly done.

A great shelter for observations in windy conditions. The author once observed an exoplanet transit under the average wind of 24 m/s and gusts of up to 30 m/s.
Reduces the influence of extraneous light.
A stable temperature reduces the time for the telescope's thermal equilibrium.

Less moisture on the optic surface, inside the observatory than exposed outside.
Electricity to run motor-driven telescopes, cameras, computers, and WiFi is permanent.
You observe as long as you like but can quickly finish and shut down the facility.
To build an observatory can turn expensive. Building skills is therefore a advantage.
Aðstaðan þarf að vera nógu vel smíðuð til þess að verja sjónaukann og viðkvæm tæki fyrir öllum veðrum. Fyrir handlagna getur verið skemmtilegt hliðarverkefni að byggja sína eigin aðstöðu.
The facility must be properly built to protect the telescope and sensitive instruments from all weather conditions. For the dexterous handyman, building their own facility can be an entertaining side project.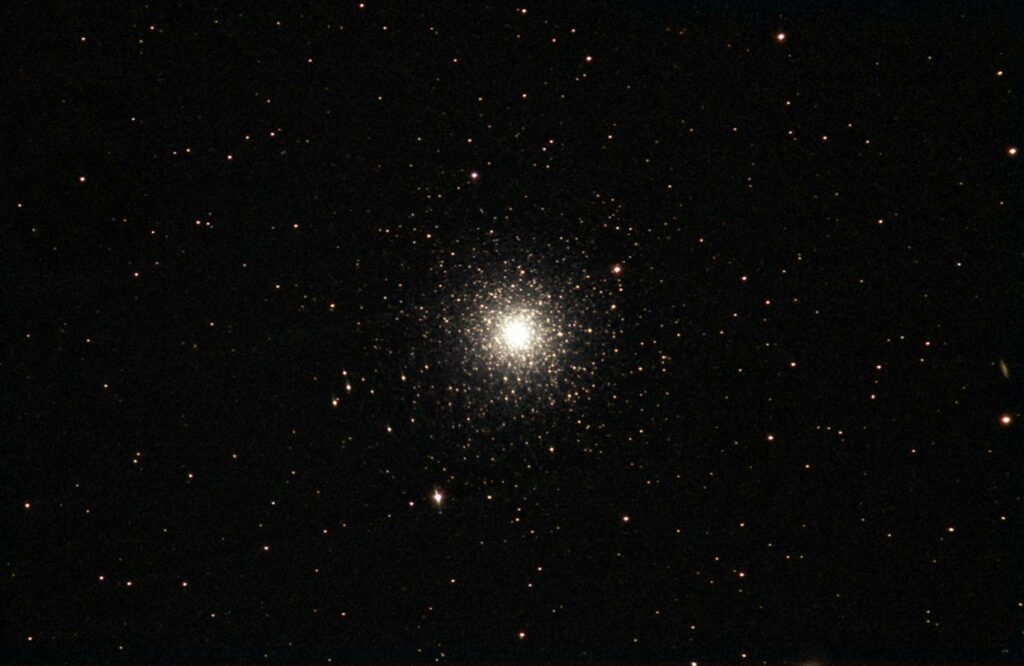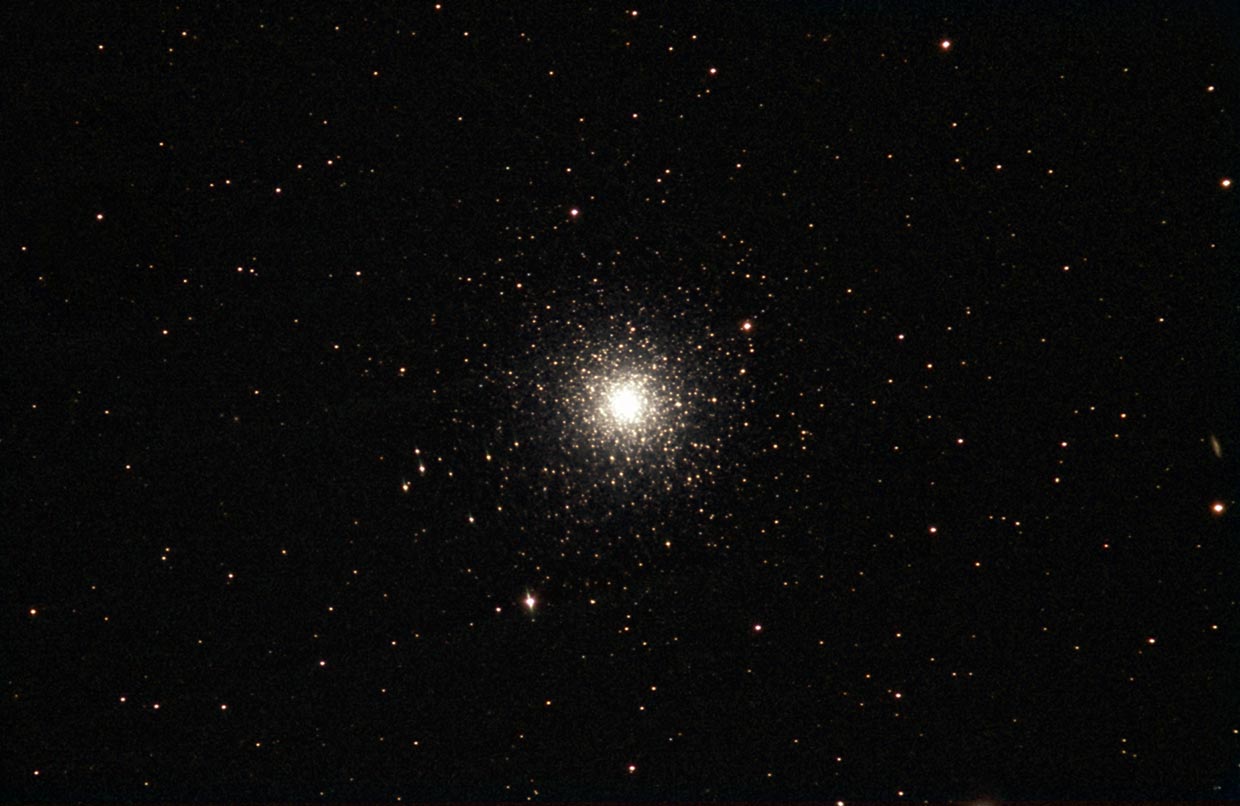 Kúluþyrpingin Messier 3  í Veiðihundunum. – The Globular cluster, Messier 3 (NGC 5272), located in Canes Venatici.
Einn ávinningur af því að setja upp stjörnustöð í bakgarðinum var að skoðunarkvöldum fjölgaði. Stjörnuathuganir hefjast fyrr á kvöldin og þeim lýkur seinna. Annar ávinningur var að ástríðan fyrir stjörnufræði fékk að nærast og þróast. Í stórum dráttum úr sjónskoðun í stjörnuljósmyndun og síðar ljósmælingar. Lengri viðvera við sjónaukann leiddi til dýpri löngunar á að kanna stjörnurnar af fyrstu hendi.
One benefit of building a backyard observatory was more nights were used for observations. The observing sessions start earlier in the evening and they last longer. Another benefit was the passion for astronomy was nurtured and it progressed, briefly from visual observations to astrophotography and later photometry. A more prolonged presence at the telescope leads to a deeper desire to explore the stars firsthand.
Almennt séð dregur kuldi og napur vindur niður áhuga á stjörnuskoðun. Í skjóli verða stjarnmælingar ærið afslappaðar og þægilegar. Stjörnuathuganirnar urðu hnitmiðaðri og skemmtilegri.
In general the cold and the bitter wind discourage an interest in star gazing. When sheltered the observing session turns relaxed and comfortable. The observations became more concise and amusing.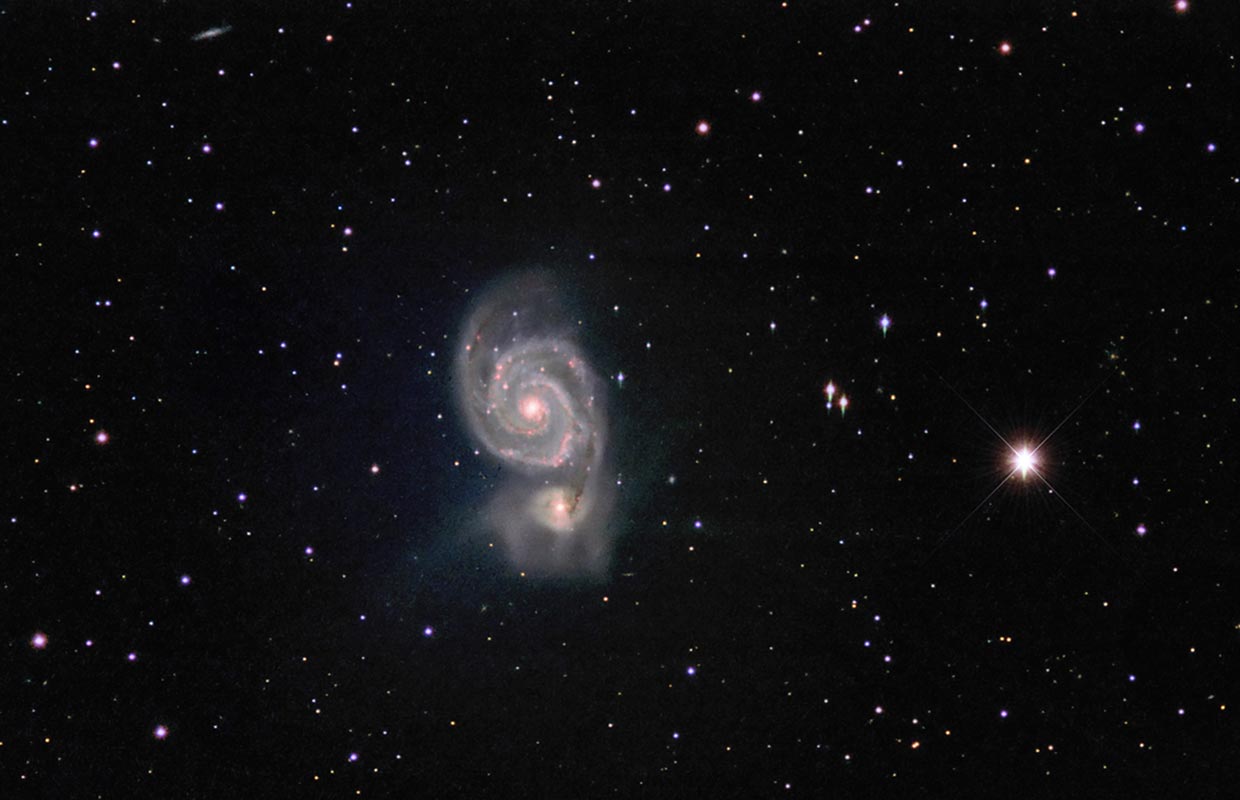 Svelgþokan – The Whirlpool Galaxy, Messier 51a (NGC 5194) and Messier 51b (NGC 5195).
Er það þess virði?- Is it worth it?
Fjárhagslega séð – nei – en fyrir einlæga stjörnuáhugamenn sem vilja ganga skrefi lengra í stjörnuathugunum er ávinningurinn mikill. Það má spyrja hvort gagn sé í athugunum stjarnmælingamanna þegar til eru eins stórkostlegar stjörnustöðvar og geimsjónaukar, og raun ber vitni? Svarið er já, svo sannarlega. Stjarnfyrirbærin eru óteljandi og stjörnustöðvar geta ekki sinnt stöðugum mælingum á þeim öllum. 
Financially speaking – no – but for dedicated amateur astronomers, who want to go deeper it is the ultimate dream. Another question is if there is any need for amateur observations when such magnificent observatories and space telescopes exist. The answer is yes, indeed. The number of astronomical objects is innumerable, and professional observatories cannot consistently observe them all.
Stjörnufræðingar njóta liðsinnis stjörnuáhugamanna sem geta aflað gagna með tilskyldum búnaði. Slíkt samstarf hefur lengi staðið yfir. Framlag stjarnmælingamanna hefur komið að notum í leit að smástirnum eða halastjörnum í sólkerfinu, vöktun ýmissa breytistjarna, nýstirnum og endurkvæmum nýstirnum í Vetrarbrautinni, þvergöngum fjarreikistjarna eða sprengistjörnum í fjarlægum stjörnuþokum. Upplýsingar um samstarfsverkefni stjörnufræðinga og stjarnmælingamanna eru aðgengilegar á netinu.
Astronomers can benefit from collaborating with advanced amateur astronomers, who use mandatory equipment for data collection. Their joint effort has been practiced for a long time. Photometric and photographic contribution by advanced amateur astronomers has been useful in the search for asteroids and comets in the solar system, monitoring various types of variable stars, novae, recurrent novae, exoplanet transits in the Milky Way, or supernovae in distant galaxies. Information on Pro-Am projects is provided on the internet.

Á Íslandi má afla gagna um ákveðin stjarnfyrirbæri, þó að aðstæður séu erfiðar. Á þessu vefsetri eru ýmis þeirra kynnt. Niðurstöður mælinga á  myrkvastjörnum og þvergöngum fjarreikistjarna hafa verið sendar í alþjóðlegan gagnagrunn og gerð aðgengileg stjarnvísindasamfélaginu.
Despite the difficult conditions in Iceland, it is possible to acquire data on certain astronomical objects. Several objects are presented on this website. The results of observation on eclipsing binaries and exoplanet transits have been submitted to an international database and made available to the astronomical community.