Stjörnuathuganir sem eru kynntar á þessu vefsetri hafa flestar verið gerðar frá Hornafirði. Oftast eru það ljósmælingar á myrkvatvístirnum eða að fylgst er með þvergöngum fjarreikistjarna.
Photometrical observations presented on this website have been implemented in Hornafjörður, Southeast Iceland. The primary objects are eclipsing binaries and transiting exoplanets.

Breytistjörnur - Variable stars
Stjörnur sem breyta birtustyrk eru nefndar breytistjörnur. Þær eru ýmist eiginlegar breytistjörnur, ef orsakir birtubreytinga eru í innviðum eða yfirborði, eða óeiginlegar ef birtubreytingar verða af ytri aðstæðum, t.d. fylgistjörnu eða umhverfi stjörnunnar.
Variable stars are either intrinsic variables when physical changes in the interior of a star or its surface cause the brightness to vary, or extrinsic if the brightness variation is caused by another reason (eclipse, rotation, lensing).
Breytistjörnur veita miklar upplýsingar um eðli stjarna og eiginleika eins og massa, þvermáli, birtu, hita og samsetningu og hvernig þær þróast.
Variable stars provide valuable pieces of information about the physics and properties of stars, such as mass, diameter, brightness, temperature, and composition.
Stjörnufræðingar geta notað mæligögn sem stjarnmælingamenn afla með tilskildum aðferðum. Um er að ræða eitt örfárra rannsóknasviða í stjarnvísindum þar sem framlag áhugamanna kemur að gagni.
Researchers can use photometric data obtained by advanced amateur astronomers with the required methods. Variable star photometry is one of the very few research fields in astronomy where the contribution of amateurs is useful.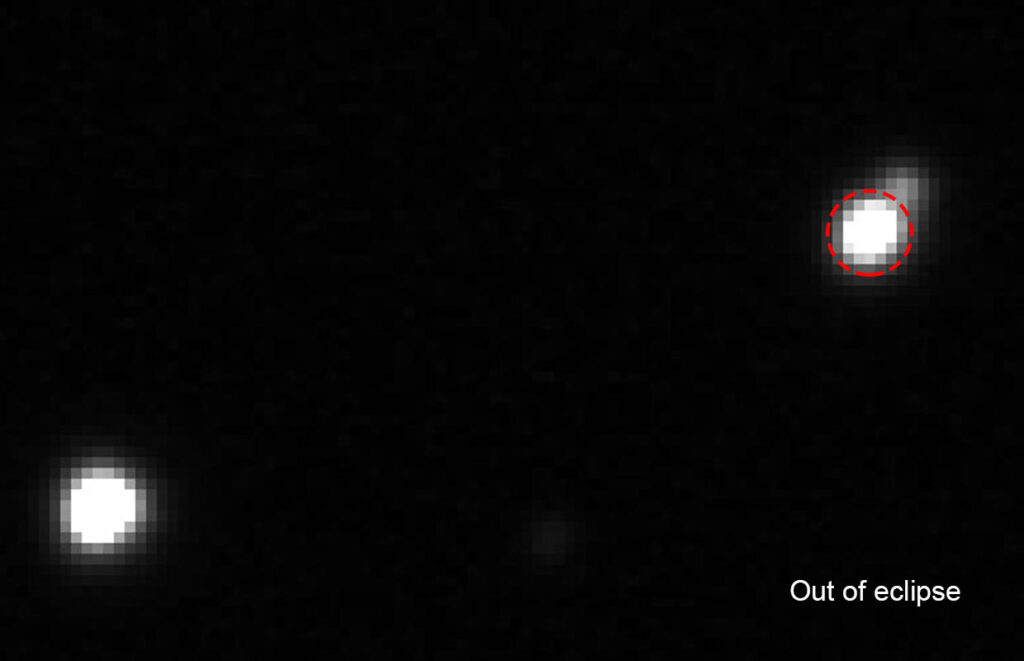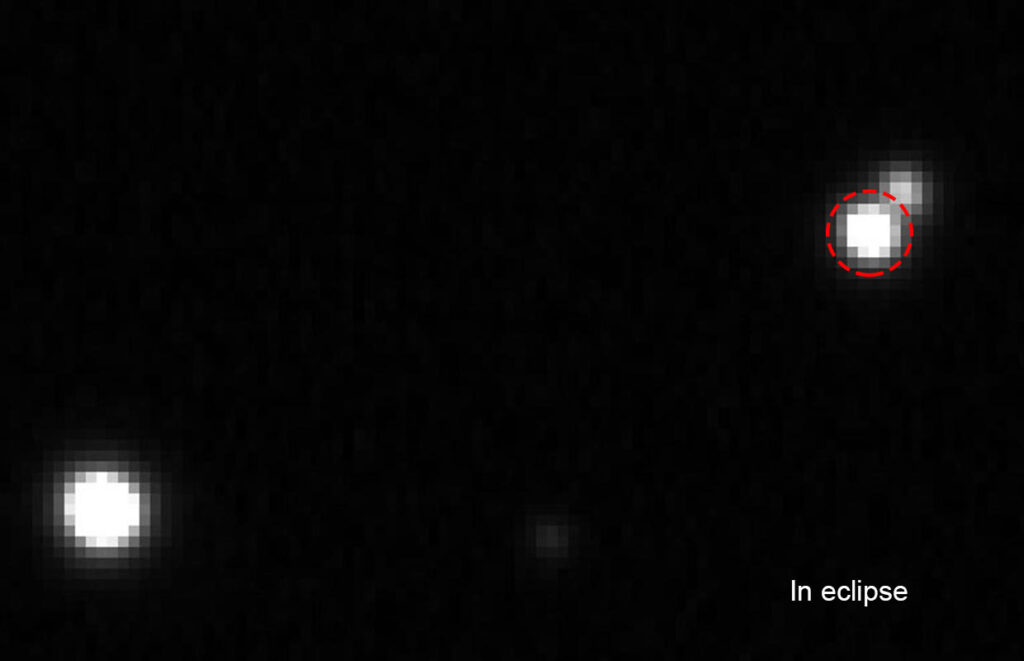 Mynd/Fig. 1.  Myrkvastjarnan V 801 And (í rauðum hring) í birtuhámarki og -lágmarki (myrkva). Birtubreytingin er 0,5 bst. – The eclipsing binary V 801 And (in red circle) during maxima and minima. The flux dip is 0.5 mag.

Með dæmigerðum stjörnusjónaukum er hægt að mæla fjölda breytistjarna. Tækniframfarir í smíði sjóntækja og ljósnæmum myndnemum hafa leitt til þess að gera má nákvæmar ljósmælingar með litlum sjóntækjum.
Observers can measure a vast number of variable stars with a typical amateur telescope. Technological improvements in optics and imaging sensors have led to great photometric accuracy with small optics.

Breytistjörnuathugendur skrá birtustig og mælingatíma og senda niðurstöður í gagnasöfn. Mæligögnum er m.a. safnað í gagnagrunn The American Association of Variable Star Observers (AAVSO) og Brno Regional Network of Observers (B.R.N.O.) og TRansiting ExoplanetS and Candidates (TRESCA), sem eru deildir í Stjörnufræðifélagi Tékklands, auk Suhora stjörnustöðvarinnar í Póllandi. Þau eru öllum opin á netinu og nýtast í rannsóknir. 
Variable star observers record brightness and time of measurements and submit the results to databases. Measurements are collected by The American Association of Variable Star Observers (AAVSO) and Brno Regional Network of Observers (B.R.N.O.) and TRansiting ExoplanetS and Candidates (TRESCA), at the Brno Observatory in the Czech Republic and the Suhora Observatory in Poland. These databases are open online and useful for research.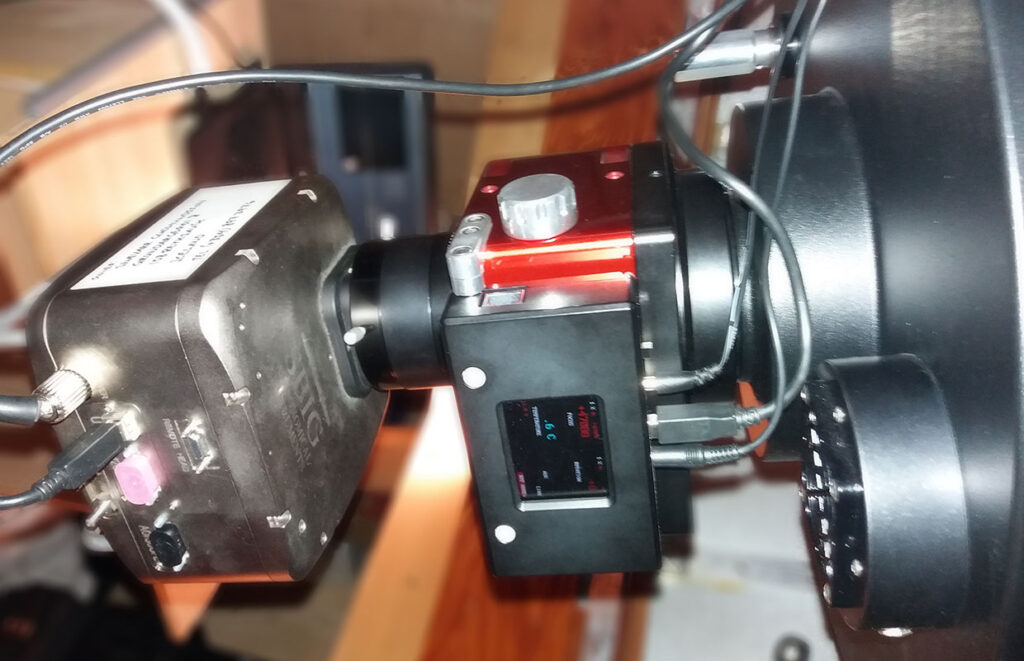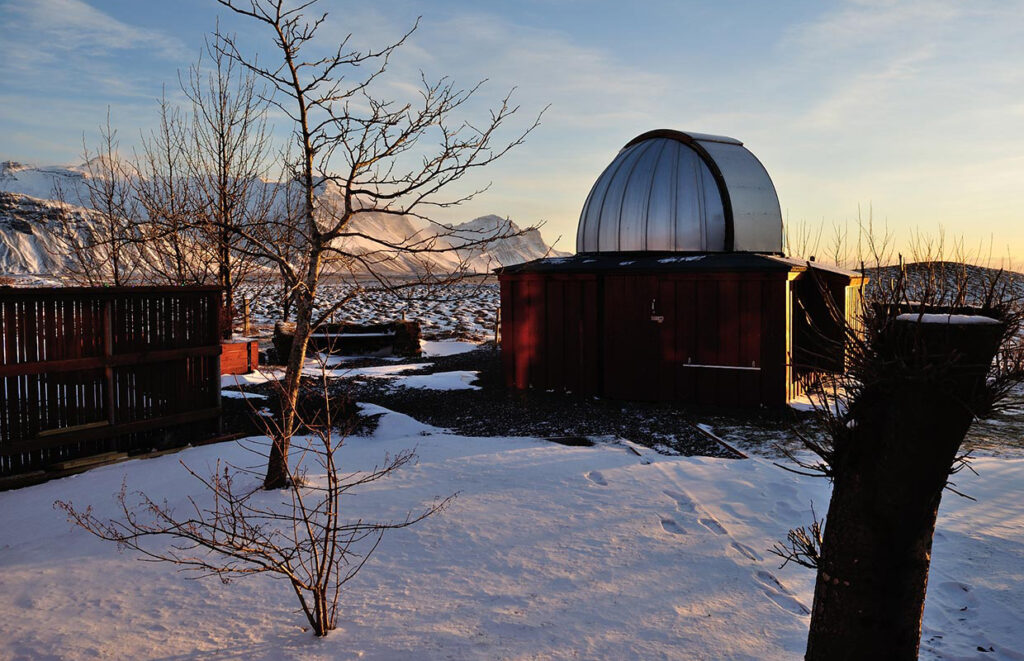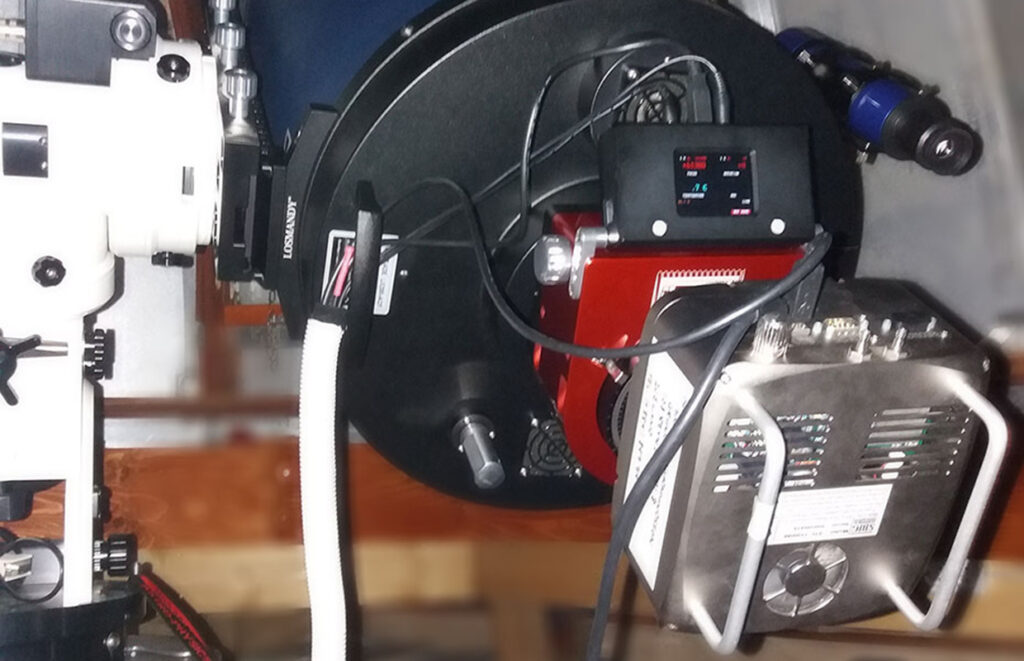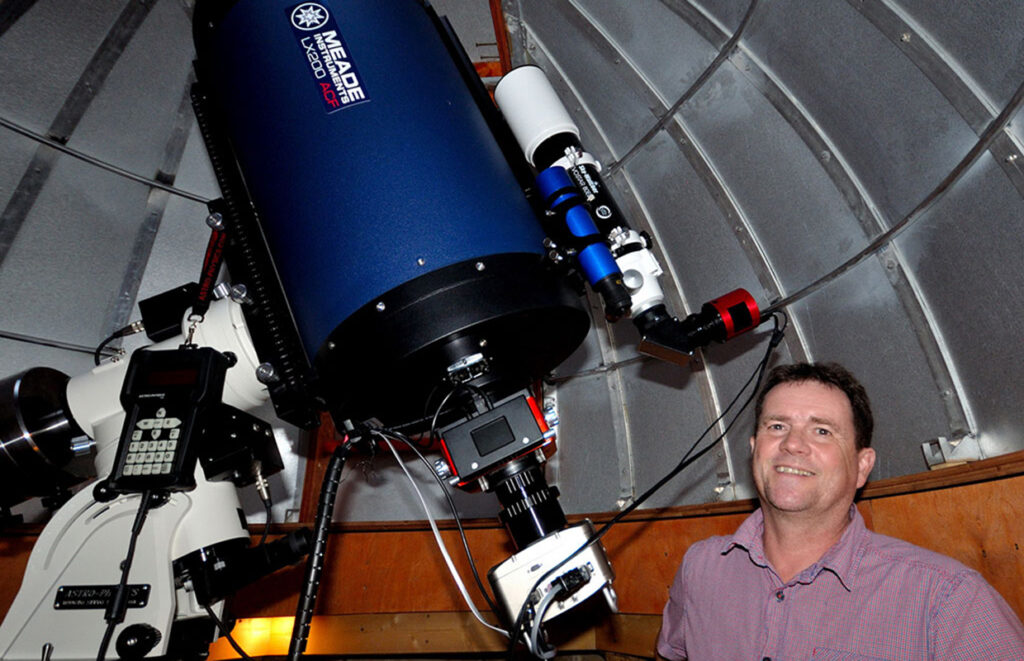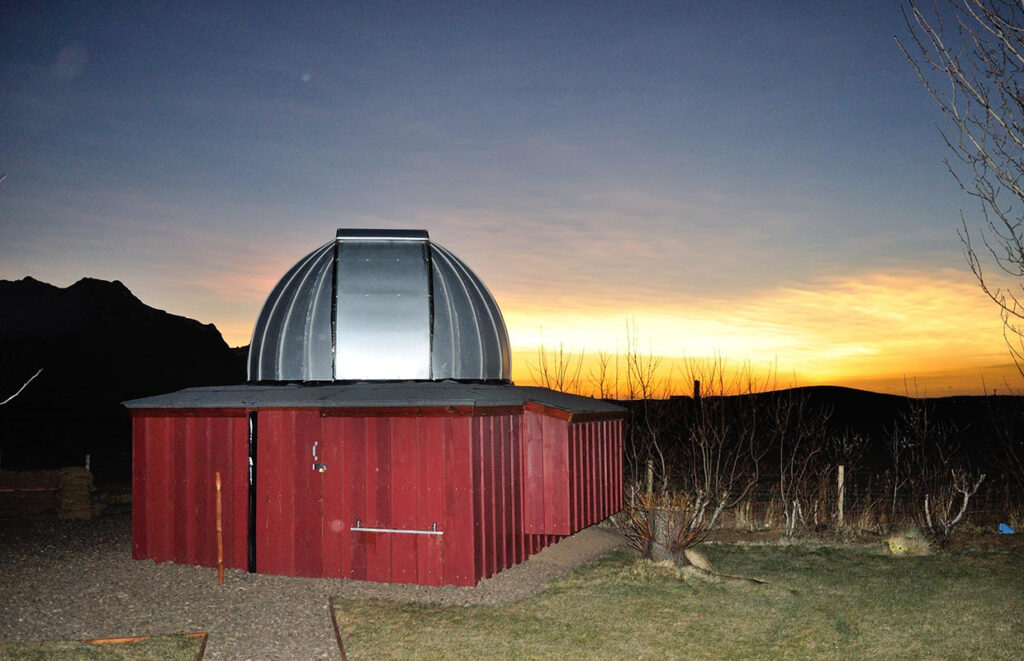 Myndröð/Figures.  Stjörnustöðin, sjónaukinn og ljósmælibúnaðurinn. – The Observatory, the telescope, and the photometry setup.

Myrkvastjörnur - Eclipsing binaries
Myrkvatvístirni eru óeiginlegar breytistjörnur. Stjörnurnar sem mynda þau deila samþungamiðju. Þær aðgreinast ekki í sjónaukum vegna innbyrðis nálægðar og fjarlægðar frá jörðu. Því sést aðeins "stök" stjarna. Ef þær ganga hvor fyrir aðra, séð frá athuganda, verður breyting á heildarbirtu kerfisins. Athugandi sér birtu "stjörnunnar" deyfast eða aukast.
Eclipsing binaries are extrinsic variables. As typical binary stars, they share a common center of gravity (barycenter) but are in close orbit. Because of the vast distance, we only observe a "single" star. Its nature is revealed with photometry, as the light flux changes periodically with time. Observers see the brightness of the "star" fade or increase.
Niðurstöður ljósmælinga á myrkvastjörnum sem eru kynntar á þessu vefsetri eru sendar í gagnagrunn B.R.N.O. í Tékklandi.
The results of eclipsing binary observations presented on this website are usually submitted to the B.R.N.O. database in the Czech Republic.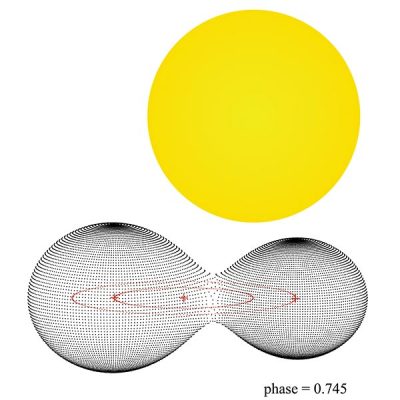 Fjarreikistjörnur - Extrasolar Planets
Fjarreikistjörnur, sem hringsóla um fjarlægar sólstjörnur, sjást ekki vegna yfirgnæfandi skins móðurstjarnanna. Því eru notaðar óbeinar aðferðir til þess að nema þær. Þegar "heitir Júpíterrisar" – gasreikistjörnur á brautum nálægt móðurstjörnum sínum – [þver]ganga í skin þeirra deyfist ljósið lítillega en nóg til þess að vera mælanlegt. 
Exoplanets, orbiting distant stars, are invisible due to the overwhelming light of their host. Therefore indirect methods are needed to detect them. When a "hot Jupiter" – a giant gas planet in a close orbit – transits its host star the light slightly drops. The small light dip is detectable with sensitive instruments.
Niðurstöður athugana eru ætíð sendar í gagnagrunn TRESCA (Exoplanet Transit Database) í Tékklandi.
Results of observations are generally submitted to the TRESCA (Exoplanet Transit Database) database in the Czech Republic.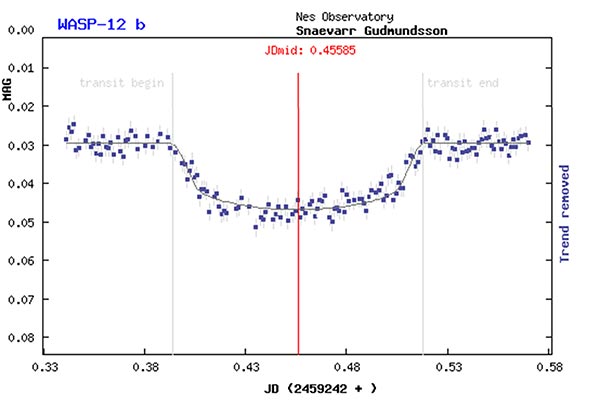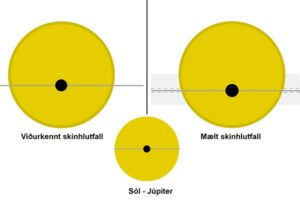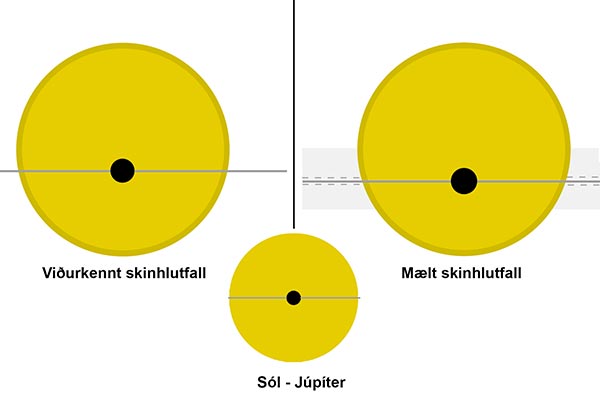 Vinstra megin eru niðurstöður mælingar á þvergöngu WASP-12 b þann 27. janúar 2021 og hægra megin samanburður við viðurkennt skinhlutfall og kerfið Sól/Júpíter. Byggt á upplýsingum frá gagnagrunni TRESCA. – Left: The result of an observation of transiting WASP-12 b on January 27, 2021, and to right: comparison with the accepted value of geometry and the system Sun/Jupiter. Based on data from the TRESCA database.

Tekið saman 05.04.2021. Síðast uppfært 20.06.2022.