Stjörnustöðin "Observatoire des Baronnies Provençales" (mynd 1) er staðsett á Mas des Grès, í um 800 m hæð yfir sjó, tæpa 2 km norðaustan við þorpið Moydans í Baronnies-héraði í Hautes-Alpes, í Frakklandi. Stjörnustöðin er helguð "menningu stjörnuhiminsins og uppgötvun á arfleið okkar: nóttinni", eins og kynnt er á vefsetri hennar. Þorpið Moydans var reist af musterisriddurum á 10. öld. Þaðan sést áhugavert stjarnfræðilegt fyrirbrigði tvisvar á ári, þegar sólin skín í um 20 mínútur gegnum holu sem grafin var í topp Risou-fjalls. Líklega liggja því rætur stjörnufræðinnar í héraðinu mun lengra aftur en virðist við fyrstu sýn.
The "Observatoire des Baronnies Provençales"  (Figure 1) is an observatory located at Mas des Grès, at an altitude of 800 m a.s.l., near the village of Moydans in the Baronnies region of the Hautes-Alpes department, in France. As represented on its website, the observatory dedicates it to the culture of the stars and the discovery of our nocturnal heritage: the night. The village of Moydans was built in the late 10th century A.D. by the Knights Templar. From there, an interesting astronomical phenomenon occurs twice a year when the sun shines through an excavated hole on Mount Risou for about 20 minutes. In all likelihood, astronomy has its roots in the region much earlier than it appears at first glance.

Mynd/Fig. 1. Stjörnustöðin í Baronnies Provençales – The Observatory in Baronnies Provençales.
Stjörnustöðina rekur stjörnuáhugamaðurinn Marc Bretton og fjölskylda hans. Þar var áður býli með búfénað, en þegar þau fluttu þangað árið 2006, snéru  þau sér að nýsköpun í ferðaþjónustu, með áherslu á stjörnusjónauka og stjörnuskoðun. Eftir meira en fimm ára starfsemi var síðan stjörnuturninn reistur, árið 2012 (mynd 2). Í þessu umhverfi hefur arfleifð næturinnar og myrkurgæði verndast, segja þau, og að slíkur kolsvartur himinn og stjörnurnar sé vísir á líffræðilegan fjölbreytileika náttúrunnar. Heiðríkjunætur eru um 200-240 á ári.
The site is run by amateur astronomer Marc Bretton and his family. There used to be a farm with livestock, but in 2006, when the family settled there, they turned to innovation in tourism, with an emphasis on telescopes and stargazing. After more than five years of operation, the observatory was completed in 2012 (Figure 2). In the environment, the legacy of night and the quality of darkness have been preserved, they say, and such pitch-black skies and stars are indicative of nature's biodiversity. At Mas des Grès, one can expect about 200-240 clear nights a year.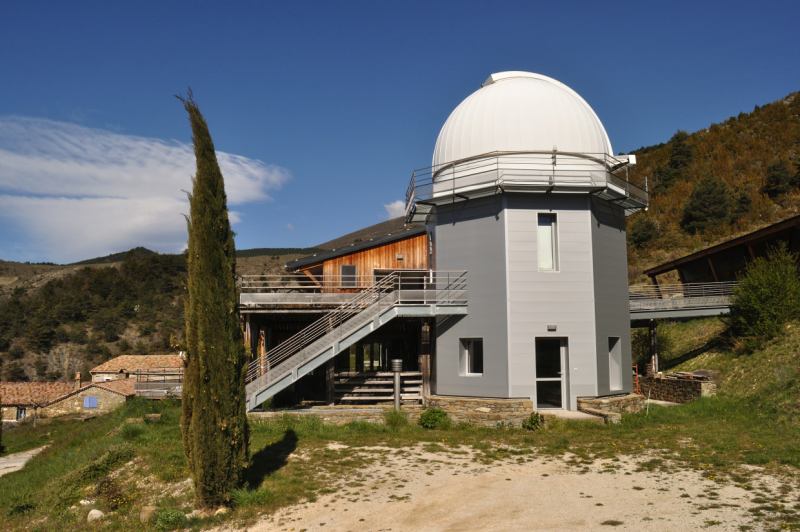 Mynd/Fig. 2. Stjörnuturninn í Baronnies Provençales – The main observatory in Baronnies Provençales.
Þann 16. apríl 2023 bauðst okkur tækifæri til að heimsækja þessa áhugaverðu stjörnustöð og kynnast aðstöðunni. Ánægjulegt var að hitta Marc Bretton, eiganda stöðvarinnar, og Anaël Wünsche stjarneðlisfræðing (mynd 3), sem tók okkur í fróðlega kynnisferð um stöðina.
On April 16, 2023, we visited this interesting observatory and got to know the facilities. It was a pleasure to meet Marc Bretton, the property manager, and Anaël Wünsche (Figure 3), the astrophysicist who took us on a very informative observatory tour.
Mynd/Fig. 3. Marc Bretton (t.v.) og Anaël Wünsche við stjörnustöðina – Marc Bretton (to left) og Anaël Wünsche at the observatory.
Í húsunum er aðstaða fyrir stjörnuathuganir, fundahald og fyrirlestra, auk rannsóknavinnu. Þarna eru geymdir stærstu sjónaukar í Evrópu, sem eru aðgengilegir stjörnuáhugamönnum til sjónskoðunar (mynd 4). Þar má leigja vandaða sjónauka í ýmsum stærðum fyrir stjörnuskoðun, ljósmyndun eða rannsóknir. Í stjörnuturninum er RC sjónauki með spegilþvermál 82 cm (myndir 5, 6, og 7). Og vegna þess að þarna er gistiaðstaða er hægt að dvelja lengi við til þess að sinna stjörnuathugunum af ýmsu tagi.
The buildings provide facilities for observations, rooms for meetings or lectures, and research analysis. It houses the largest telescopes in Europe, which are accessible to stargazers (Figure 4). There, you can rent high-quality telescopes in various sizes for visual work, astrophotography, or research projects. The observatory houses an RC telescope with a mirror diameter of 82 cm (Figures 5, 6, and 7). And because there are accommodation facilities, you can stay for a long time to do various kinds of astronomy.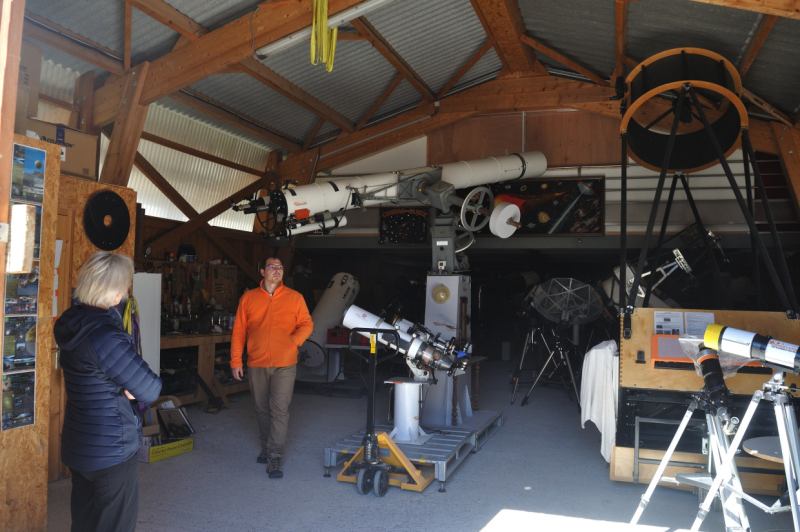 Mynd/Fig. 4. Anaël Wünsche sýndi okkur ótrúlegt safn sjónauka við stjörnustöðina. Sigríður G. Björgvinsdóttir er til vinstri  –  Anaël Wünsche showed us an incredible collection of telescopes at the observatory. Sigríður G. Björgvinsdóttir is on the left on the image.
Í fyrstu ráku hjónin aðstöðuna en í dag starfa sjö manns á stjörnustöðinni, þar á meðal stjarneðlisfræðingar. Þar býðst áhugasömum allt frá almennri fræðslu um stjörnuhiminninn, sjónskoðun, stjörnuljósmyndun eða stjörnurannsóknir, m.a. á fjarreikistjörnum og djúpfyrirbærum. Markmiðið er að bjóða stjörnufræðingum og stjörnuáhugamönnum fyrsta flokks aðstöðu allt árið um kring. Einnig er mögulegt að leigja rými undir eigin sjónauka, sem stjórna má hvaðan sem er í gegnum netið. Ef það er gert bætist ýmis þjónusta við.
At first, the couple ran the facility, but today the observatory employs seven people, including astrophysicists. Currently, it houses facilities for public outreach, visual observation, astrophotography, or serious research projects, using large telescopes for photometry or spectroscopy. The intention is to provide first-class instruments to astronomers and amateurs, all year round. It rents space for your telescope, which can be remotely controlled.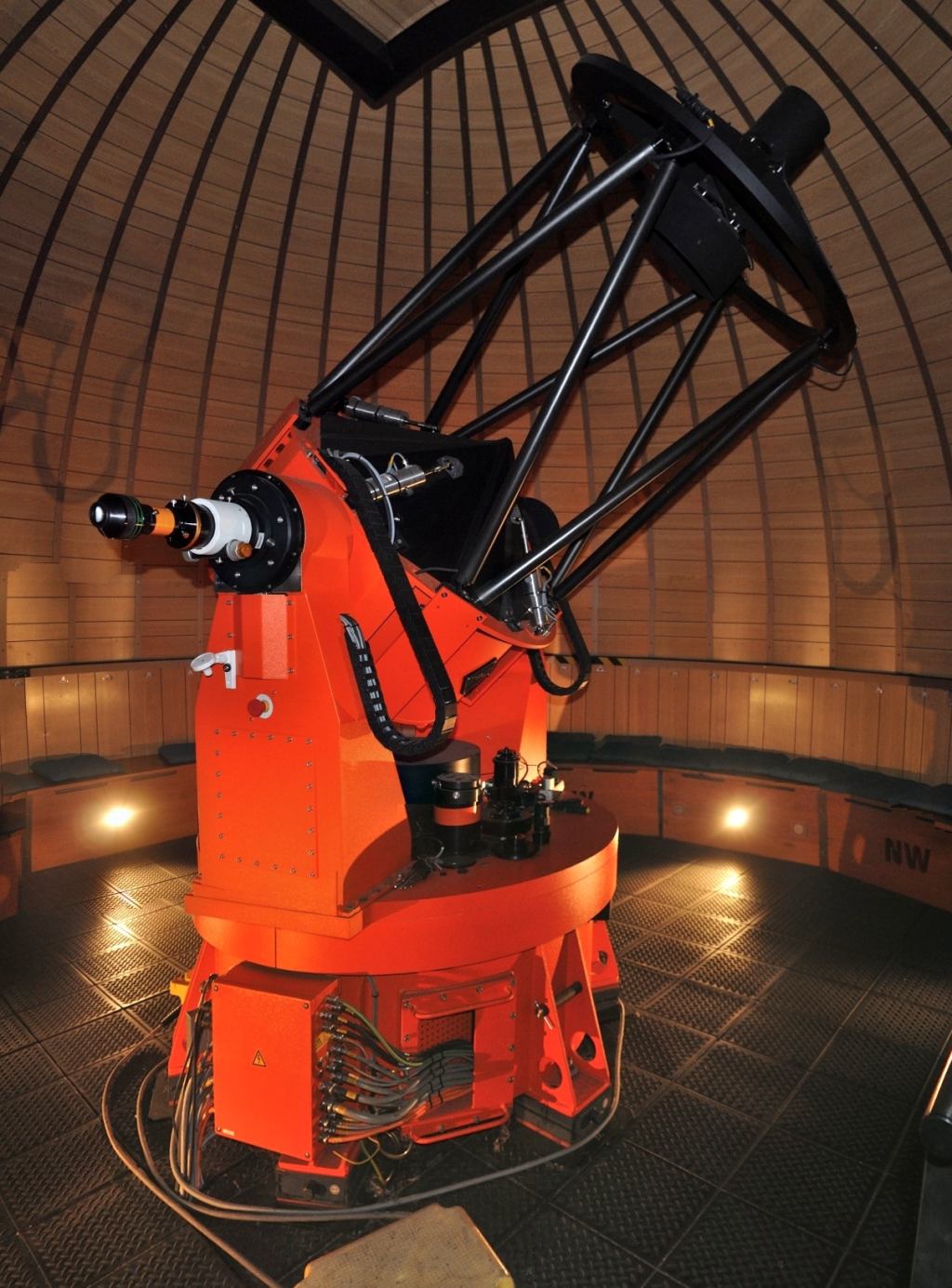 Mynd/Fig. 5. Í stjörnuturninum er 82 cm  Cassegrain Nasmyth spegilsjónauki. –  In the main observatory an 82 cm Cassegrain Nasmyth reflector is installed.
Mynd/Fig. 6. Anaël Wünsche við 82 cm spegilsjónaukann í stjörnuturninum. –  Anaël Wünsche at the 82 cm reflector installed in the main observatory.
Mynd/Fig. 7. Stjórnstöð fyrir 82 cm sjónaukann er staðsett á jarðhæð í stjörnuturninum. – The control room for the 82 cm telescope is located on the first floor of the main observatory.
Stjörnustöðin er afskaplega vel búin fyrir stjörnuáhugamenn og stjörnufræðinga og víðtæk þekking til að leysa vandamál, hver sem þau eru. Þarna er tilvalið tækifæri í boði fyrir stjörnuáhugamenn eða hópa að slá saman sumarfríi og áhugamálinu, og njóta stjarnanna undir einum myrkasta himni í Evrópu.
The observatory is extremely well-equipped for astronomy and provides an ideal opportunity for amateur astronomers or groups to combine a summer vacation with their hobby and enjoy the stars under one of the darkest skies in Europe.
Tilvitnun í grein:
Snævarr Guðmundsson 2023. Observatoire des Baronnies Provençales. Rafræn grein. Vefslóð: https://natturumyndir.is/observatoire-des-baronnies-provencales/.