HAT-P-13 b er "fyrri" reikistjarna af tveim sem hafa fundist á braut um stjörnuna GSC 3416:543 í Stórabirni. Þær uppgötvuðust árið 2009 í mæligögnum sem var aflað 2005-2006, með HATNet sjónaukunum sem eru sérhæfðir til leitar að fjarrreikistjörnum.  Meðal stika sem vefsíða EPE listar eru: Fjarlægð er áætluð ~698 ljósár, móðurstjarnan er 1,22 sólarmassar, reikistjarnan 0,85 Júpítermassi og umferðartími 2,91624 dagur.
HAT-P-13 b orbits GSC 3416:543 (HAT-P-13) located in Ursa Major. It is one of two planets discovered  in 2009, in a data set obtained in 2005-2006 with the The Hungarian Automated Telescope Network (HATNet). According to EPE website the distance of HAT-P-13 is ~698 light years. The host is a 1.22  solarmass, 1.56 solar radii star with an estimated surface temperature of ~5640 K°. HAT-P-13 b is a 'Hot Jupiter' of 0.85 Jupitermass and a radius of 1.28 compared to Jupiter. The orbital period is 2.91624 days.

Staðsetningarkort fyrir HAT-13 b (Stellarium) – Location map of HAT-13 b (Stellarium).
Höfundur fylgdist með þvergöngu HAT-13 b þann 20. janúar 2018. Aðstæður voru ágætar og stjarnan var í hvirfilpunkt á meðan tökum stóð. Mynd 2a sýnir atburðarásina (punktar) borna saman við líkan (lína) spáðrar þvergöngu. Mynd 2b sýnir skinhlutfall, þ. e. hve mikið fjarreikistjarnan skyggir á móðurstjörnuna í þvergöngu, samkvæmt mælingunni. Myndin var fengin á vefsvæði TRESCA og aðlöguð að þessari síðu.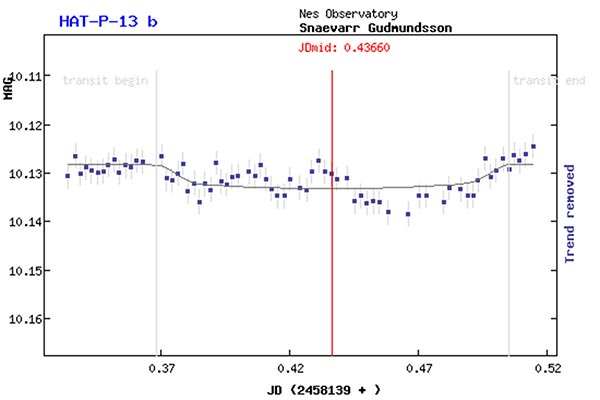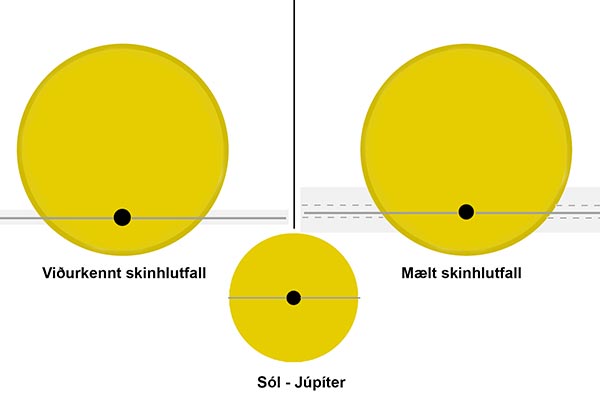 Þetta er á meðal daufustu þvergangna sem höfundur hefur fylgst með. Birtubreytingin er 0,006 bst. Aðstæður voru hinar ákjósanlegustu og myndatökur lánuðust vel. Niðurstöður sem fengust með reiknitóli TRESCA, varðandi ljósdeyfingu, lengd þvergöngu og O–C rit lágu nærri viðurkenndum gildum.
Ýtarlegri upplýsingar um mælinguna er í samantekt um stjörnuathuganir áranna 2018-2019.
Observation of the transiting HAT-13 b was implimented from Nes Observatory on January 20, 2018. This is  amongst the faintest transit detection (0.006 mag) observed by the author, but the observation was done under fair conditions. More details on this observation are in Icelandic, only.
HAT-13 b á vefsvæði TRESCA, Exoplanet Transit Database (ETD).
HAT-13 b at TRESCA website, Exoplanet Transit Database (ETD).
HAT-13 b á vefsvæði "The Extrasolar Planets Encyclopaedia" (EPE).
HAT-13 b at the Extrasolar Planets Encyclopaedia (EPE).
Sjónrænar þrívíðar upplýsingar um HAT-13 b á vefsvæði NASA, Exoplanet Exploration.
Visual 3D information about HAT-13 b at NASA website, Exoplanet Exploration.